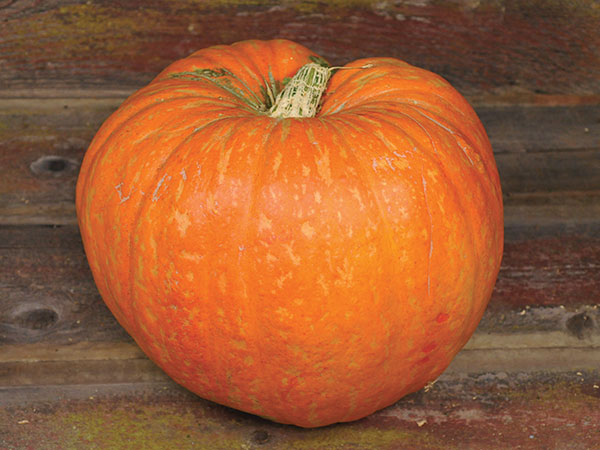 Big Max
Big Max pumpkins are extremely large, weighing anywhere between fifty and two hundred pounds. Their shape tends to be slightly slumped with a rounded top and flattened bottom. Its pink-orange skin is thick and deeply ribbed.
Stringy, watery flesh. Are often used for pies and canning. Also known as Big Mac.
Varieties:
Potiron d'Alencon
French variety, originally from Alenšon, a city beneath le Mans.
Plant: trailing, needs 3 sqm; Fruits: cylindrical, red-orange; Size (DxH): 20 cm x 30 - 50 cm; Weight: 4 - 8 kg; Flesh: yellow-orange; thick, about 2-3 cm; crunchy, nutty flavour; Utilisation: for soup, pies, sweet dishes; Maturation: 90 days; Conservation: 3 - 5 months.
Seed Reviews:
Ornate Horticulture Society: this pumpkin has problems of pollination indeed sometimes the pumpkins are deformed and do not always have the desired shape and even the color.
P. Brown: I had the impression that it was not very well fertile, but very long foliage. I had fruit in the shape of a rugby ball as it should be, but also fruits round, here we have the same observation.
Golais
Very large, brilliant orange fruits are oblong, lightly ribbed. They do get large--60 pounds or larger is possible! Yet flavor and texture are not compromised. Makes great pumpkin pie. 120 days.

Mammoth Gold