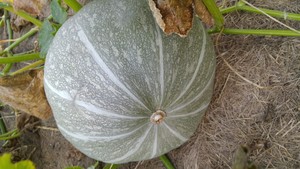 Dark orange flesh eaten raw crunches like a carrot, tastes and smells similar to watermelon rind, after cooking it taste as if you added brown sugar to the squash (but didn't). No other ingredients required. Taste of perfection. Very rare to find seeds. Ukrainian heirloom. Gray-green rind with shallow furrows; orange flesh is dense and excellent for baking.90-100 days. As i was cutting this squash it smelt like cantaloupe/watermelon. Use Chersonskaya instead of pumpkin for your pies. Keeps very well in a cool room, as I have had one in my basement for 2 years! However I don't recommend keeping them that long as the taste fades away as they dry out. Also known as Pumpkin Lechebnaya - Therapeutic or Curative or Pumpkin Medical, Ukrainian Pumpkin.
Varieties:
Ambar Squash
Compact, semi-bush plants yield deep green fruits. These weigh up to 8 lbs or so. Skin is dark sea-green, rather rough but not exactly warted. The fruits are liberally splashed with lighter, sage-green spangles. The overall effect is pleasing to the eye. Flesh is an intense orange-yellow and very sweet and nutty- tasting. Excellent storage qualities. 90 days.
Zhdana
Also known as Zjdana or Jdana. Earliest Ukrainian maxima squash variety of high quality. Average weight 6-9 kg. / 13-20 lb. Grey-blue skin. Thick red-orange, stringless flesh. Quite moist and surprisingly sweet with very good flavour. For early variety it is quite good raw, backed, steamed. Powdery mildew resistant (on paper). Average keeper.
Slavuta
Another Ukrainian variety. Also known as Zimnyaya Sladkaya. Late, high-yielding variety (120-130 days). Dark grey fruits with small light-grey spots, weight 7-12kg (15-26 lbs.). Thick, dense, orange, sweet flesh with an excellent taste and a high sugar content. Very good resistance to diseases.
Jubilee
Ukrainian variety. So called improved 'Jdana', but latter than Jdana. Quite moist and surprisingly sweet with very good flavour.
Gori Blue Mottled pumpkin
From Gori, Republic of Georgia.