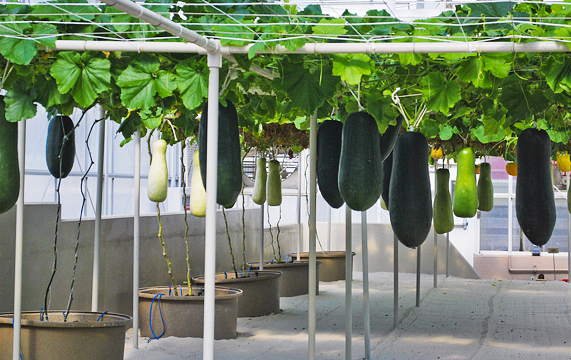 Winter Melons at Disney Epcot Hanging
Gardens
Johnny's Pumpkin Seed Comparison Chart
Johnny's Winter Squash Seed Comparison Chart
Chicago Botanic: How to care for growing pumpkins
"Pumpkins are almost 90 percent water and have high water requirements. Water each hill with at least two to three gallons of water per week. Water the roots only to keep fungal problems at bay. Pumpkins have been known to increase their size by almost one-third following a heavy rainstorm."
List of gourds and squashes
History
Whatever they're called, they were unknown in Europe until after Columbus met the peoples of the Americas, who had been eating squash/pumpkins for thousands of years. For Native Americans of the Eastern Woodlands, squash was one of the three sisters — the other two being corn and beans. The corn provides a climbing stalk for the beans that put nitrogen in the soil to nourish the corn. The squash leaves provide shade for the shallow roots of the corn.
Buttercups were bred in 1927 , being more desirable than Hubbards for the thicker flesh. See Page 4 of the Oregon PDF