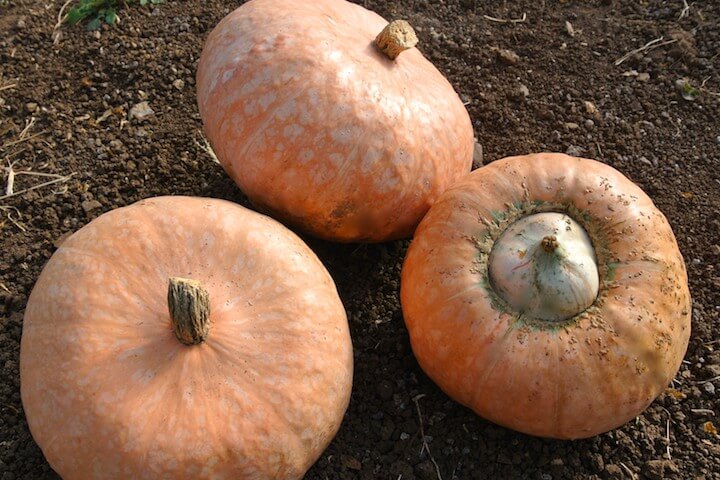 Lower Salmon River Squash is on the short list of heritage Pacific Northwest winter squash varieties. Grown in and around Idaho's Lower Salmon River, possibly for generations, it is uniquely adapted to the bioregion. Plants seem to love it here and are pretty high yielding. Deep orange sweet flesh is flakier and drier than Sweet Meat. Delicious for pies and soup or even served sliced as a side dish with butter. The salmon pink colored skin is very thick with light mottling. Almost woody rind helps the fruit store for up to one year under ideal conditions and discourages mouse and deer nibbling. Hard rind can be susceptible to cracking if over-watered late in the season – harvest before the fall rains begin. Fruit are generally 3-10 lbs, with an occasional jumbo 15 pounder. Some fruit have a more buttercup shape (more turban like) and others have a more kabocha shape (less turban like). We select for both in our stock seed, liking both shapes and the slight thematic variability is part of its integrity. During squash tasting events held in December 2014 by the Culinary Breeding Network, Lower Salmon River was a big flavor winner.
Seed Review:
Great Performer on 09/22/16 by Lyn in Westcliffe, Colorado I grew this squash at 8500 ft with lots of windy days and below 50 degree nights. The plants thrived and survived late season light frosts well. They produced well and the fruits matured. Excellent high altitude selection.

Varieties:
Theron
This variety produces enormous fruits up to 25 kgs. The color of the epidermis is pink-salmon. The plants can reach an amplitude of 10 meters and carry on average three fruits. The fruits are delicious to cook and can also be used to feed farm animals. This traditional variety was created by Theron Atkinson in the 1940s in the USA. It is probably the result of a cross between a Hubbard type and a Banana type. It was reintroduced commercially in 2013 by Adaptive Seeds in Washington State.